Get more done with Text Blaze
Increase your productivity. Reduce repetitive typing. Create customized emails with a few keystrokes. Text Blaze does all this and more. It is a typing accelerator for Google Chrome.
Stop the grunt work and blaze through your day with Text Blaze.
Notice: Text Blaze is currently in Beta testing. During the Beta, you may encounter significant issues and you use it at your own risk.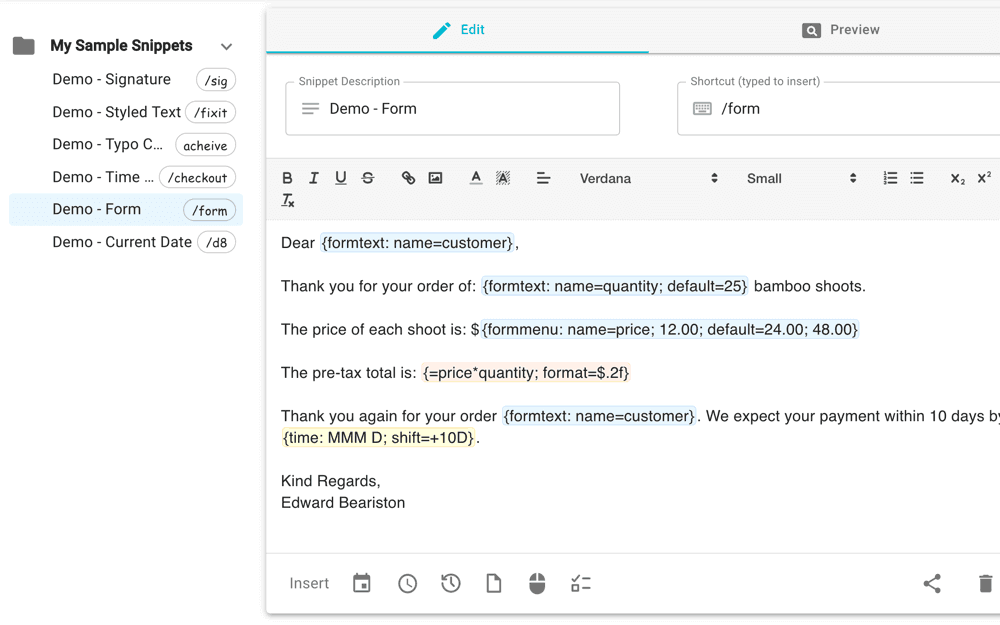 Insert Snippets
Create reusable snippets you can trigger with a few keystrokes. Include replacement commands to insert contextual data such as the current date or the domain of the site you are on.
Build Forms
Build out forms that let you define and fill in fields in a structured and consistent manner. Embed dynamic equations to automatically apply calculations like taxes.
Go on Autopilot
Move between web page fields or trigger clicks on buttons to automate parts of your workflow and reduce the amount of repetitive clicks you do.
Pricing
Text Blaze comes in three versions. A free Basic version that is great for students or casual use, a powerful Pro version focused on the needs of Professionals, and a Business version that is perfect for teams.
Free
Replacement Commands
Up to 3 Groups
Up to 10 Snippets per Group
Up to 2,500 Characters in a Snippet
Trial Forms Support
–
–
-
$

299
per month (billed annually)
Replacement Commands
Up to 20 Groups
Up to 100 Snippets per Group
Up to 25,000 Characters in a Snippet
Full Forms Support
Images in Snippets
-
-
$

699
per user/month (billed annually)
Best for Teams
Replacement Commands
Up to 40 Groups
Up to 200 Snippets per Group
Up to 50,000 Characters in a Snippet
Full Forms Support
Images in Snippets
Managed Multi-User Billing
Create Teams with Shared Groups