14 Good Work Habits For a Successful Career in Any Industry
Have you ever looked at one of your team members and wondered, "What's their secret?" The key to their success is likely a set of good work habits that fuel productivity.
Good work habits go far at the office. Valuable skills and self-discipline ensure that work gets done on time and the right way, uplifting your team and benefiting your organization as a whole.
What Are Positive Work Habits?
Good work habits are any behaviors that improve your productivity, job satisfaction and work relationships. These habits can shape your work ethic, how you manage your task list, and help you navigate team dynamics.
Positive work habits can help you get ahead at the office. Your overall positive impact on work quality makes its mark on your coworkers, who will know you're reliable, dependable, and timely. That impact won't go unnoticed by your supervisor, either, which means your efforts can lead to promotions and raises down the line. Whether you're fresh out of college and first starting out or a 20-year veteran of your profession, good work habits put a permanent spotlight on your best moments and open doors to long-term success.
14 Good Work Habits You Can Put To Work Today
It doesn't take a super high IQ or an advanced degree to harness the power of good work habits at the office. These 14 healthy habits can help you naturally improve your skill sets and abilities.
Be Open to New Challenges
Do you really want to get your boss's attention? In that case, take steps to tackle new challenges at the office. From your perspective, this can help keep your mind open, allowing you to flex your skills as a problem solver or critical thinker. Taking on some challenging work can alleviate the collective burden from your team's perspective. And if you rise to the challenge, that confidence boost can fuel you to achieve just about anything.
Learn New Skills
Instead of sitting at your desk waiting for something to happen, try spending your time learning new skills. Not sure what to learn? Pay attention to what your fellow team members are doing and take note of tasks you don't know how to do. Then, consider asking your team members to share what they know about that subject, software, or skill, or look for an online class you can watch in your downtime. With that kind of motivation, you'll quickly prove you have the motivation it takes to move to the next level.
Ask Questions
A curious mind goes far, ask away, and you might learn something new. Posing a thought-provoking question demonstrates not only that you're willing to broaden your horizons, but showcases to others that you want to be an active part of the tasks at hand.
Take Initiative and Be Proactive
Sitting back and waiting for assignments can be frustrating for your co-workers and supervisors to witness. Embrace new challenges that require initiative and a desire to be proactive: Two traits found in the most productive workers. If you're unsure how to put this into action, you can start by offering to take some work off a co-worker's plate. Don't wait for them to ask or for your boss to get involved – take the initiative yourself.
Motivate Yourself
A good mood and a positive outlook influence everyone around you. While it's not always possible to feel "on" all the time, you can create positive routines that help you feel energized at work, leading to a more productive and motivated you, even on tough days.
Don't Be Afraid to Say "I Don't Know"
A bad habit that's easy to fall into is answering a question when you don't actually know the answer. The impulse is understandable: It can feel embarrassing to not know something. But if you give an incorrect answer, the consequences could get you in trouble and deem you untrustworthy. On the other hand, the honesty of not knowing can reflect humility, a trait that can make you a more enjoyable teammate. Plus, you can always ask around and return with a proper answer later.
Present Solutions, Not Problems
Running into unexpected (and expected) problems is part and parcel of any job in any industry. A successful career involves transforming your mindset to view these obstacles not as moments to complain about, but instances for creative solutions. For example, if you think there's a better way to make meetings more efficient, you can kindly share your ideas with your meeting later. This way, you can help your team plan better while shaving time off everyone's busy schedules.
Use Tools That Help You Save Time
Efficiency saves time and stress. Productivity improvement tools like project management software and text expanders can shave hours off essential tasks that take up valuable time – time you can spend focusing on the other good work habits on this list. Text Blaze is a Chrome extension that helps you save time and boost productivity by reducing the amount of errors and repetitive typing you have to do. Personalized snippets can help you make your day easier and save you the headache of typing the same thing over and over.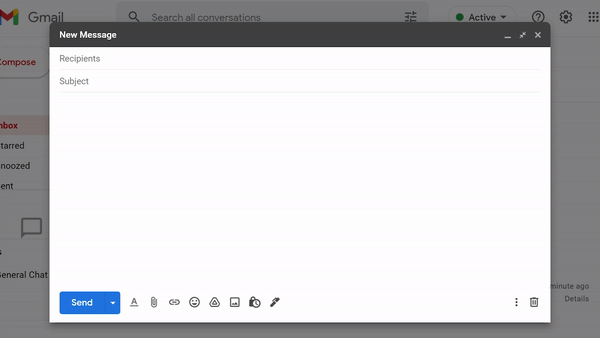 Plan and Consider Your Time Carefully
One of the best work habits is planning out your workday when you sit down to start it. First, place your most important tasks at the top of your to-do list, including your daily meetings, calls, and assignments. Then, put other priority tasks lower on your list. Your complete list will give you a better look into what needs to be accomplished that way. Few things feel as good as checking things off a to-do list!
Adhere to Deadlines
Few habits are as essential in the workplace as meeting the deadlines set by your team and your boss. Consistently hitting your deadlines proves to those around you that you're capable of getting the work done in a waythat makes their lives exponentially easier. You'll also earn the respect of your teammates, who know they can trust you to be reliable as deadlines loom near. Just as importantly, adhering to deadlines can take the weight off your shoulders, too, as you won't feel the pressure of late tasks piling up on your to-do list.
Contribute in Meetings
You might roll your eyes at the mention of another meeting, but well-organized and thoroughly planned gatherings can actually make your job easier. Review the agenda sent out ahead of time and take a few minutes beforehand to review it and prepare your thoughts. This way, you can briefly make points that add value to the meeting while respecting everyone's time. If you're the person calling the meeting, be sure to run a tight ship. Stay organized on track, so your team can get back to work.
Avoid Distractions
Whether you're permanently working from home, in a hybrid model, or back at your desk 9 to 5 Monday through Friday, anyone working anywhere can relate to the temptation of a good distraction. We've all fallen into an endless Instagram scroll session or spent a little too long in the group chat while on the clock. At the end of that, well, break, you're no closer to being done with your work.
One of the most effective work habits you can develop is avoiding distractions. For starters, turn off your cell phone or switch it to "do not disturb" mode. This way, you won't get yanked out of "the zone" when your phone vibrates. Consider pausing your emails, too, so you're not constantly seeing notifications that could take you out of the zone. Most importantly, schedule in your "distraction" breaks, so you can block your time correctly. For example, setting aside a few minutes to stretch or check Reddit can be a healthy way to give your brain a break – as long as it doesn't turn into wasted hours.
Admit Mistakes
Nobody is perfect – you're all but guaranteed to make occasional mistakes at work. The thing is, how you react to your mistake can make a more significant impact than the situation itself. Rectify it quickly with an effective and heartfelt apology that can help heal any issues caused and help your team regain their trust in you. The best "I'm sorry" reminds others at your workplace that you're a mature and trustworthy individual who takes their emotions into account. You may not be perfect, but you're willing to be held accountable for anything you may have done that's less-than-perfect
Actively Listen
When your brain is running at a million miles an hour, you may hear what someone is saying, but you may not be listening. Active listening is a real technique that involves paying close attention to what's being said, truly understanding its meaning, and responding directly to it. Engaging in active listening ensures you're absorbing important information pertinent to your job, while signaling to others that you take their contributions seriously. That can cement your reputation in a workplace as a cooperative person with excellent interpersonal skills. Talk about a good work habit!
Ready to kick your new work habits into high gear?
Nobody's expecting you to be the perfect employee overnight, but the right good work habits make your life a lot easier. Pick one or two that call out to you, and work on perfecting those skills first. In no time, you'll be contributing to your team in a whole new way. These habits may take months to develop, but if you stick with them, they'll last you a lifetime.