5 Social Media Management Tools in 2023
In today's world, almost business utilizes social media. Social media marketing can be a useful tool for business owners today.
However, for those who run businesses or big accounts, handling all the posts and messages can be a tough job. It's like trying to cook a big meal in a very busy kitchen!
That's where social media management tools come in. These tools help to keep everything organized and easy to handle.
In this article, we'll talk about what these tools are, why they're so helpful, and some of the best ones you can use in 2023.
What Are Social Media Management Tools?
Social media management tools are essentially your all-in-one control centers for social media platforms. Think of these tools as virtual Swiss Army knives, packed with features to help you manage multiple accounts, schedule posts, monitor engagement, analyze performance, and more.
Ultimately, social media management tools make using social media for business simpler, easier, and more efficient.
Why Use Social Media Management Tools?
The question should really be: why not use social media management tools? In a world where social media is no longer a luxury but a necessity, these tools are the key to unlocking efficiency, effectiveness, and above all, sanity in managing your online presence.
Essentially, these tools save precious time. Manually juggling posts and responding to comments across multiple platforms is not just tiresome but also incredibly time-consuming.
Finally, they provide an avenue for seamless collaboration. Social media management isn't a one-person job. It involves strategists, content creators, analysts, and sometimes, customer service representatives. These tools make it possible for everyone to collaborate on a unified platform, fostering teamwork and ensuring consistency in your social media presence.
5 Best Social Media Management Tools
Below, we've compiled 5 of the best social media management tools for Entrepreneurs and business owners of all types.
1. Text Blaze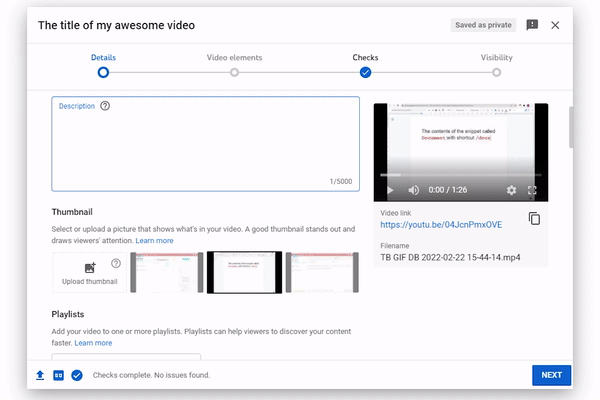 Text Blaze is a must-have tool for social media management as it can help you drastically reduce the amount of time it takes to respond to comments, answer DMs, and insert repetitive aspects of posts.
Text Blaze is a tool that eliminates repetitive typing tasks with keyboard shortcuts that allow you to insert text anywhere online.
Whether you are answering DMs, responding to comments, or typing hashtags often, Text Blaze can help you do it faster. Not only that, but Text Blaze is free forever. You can get value out of Text Blaze without EVER paying $1.
Social Media Calendar Template
2. Canva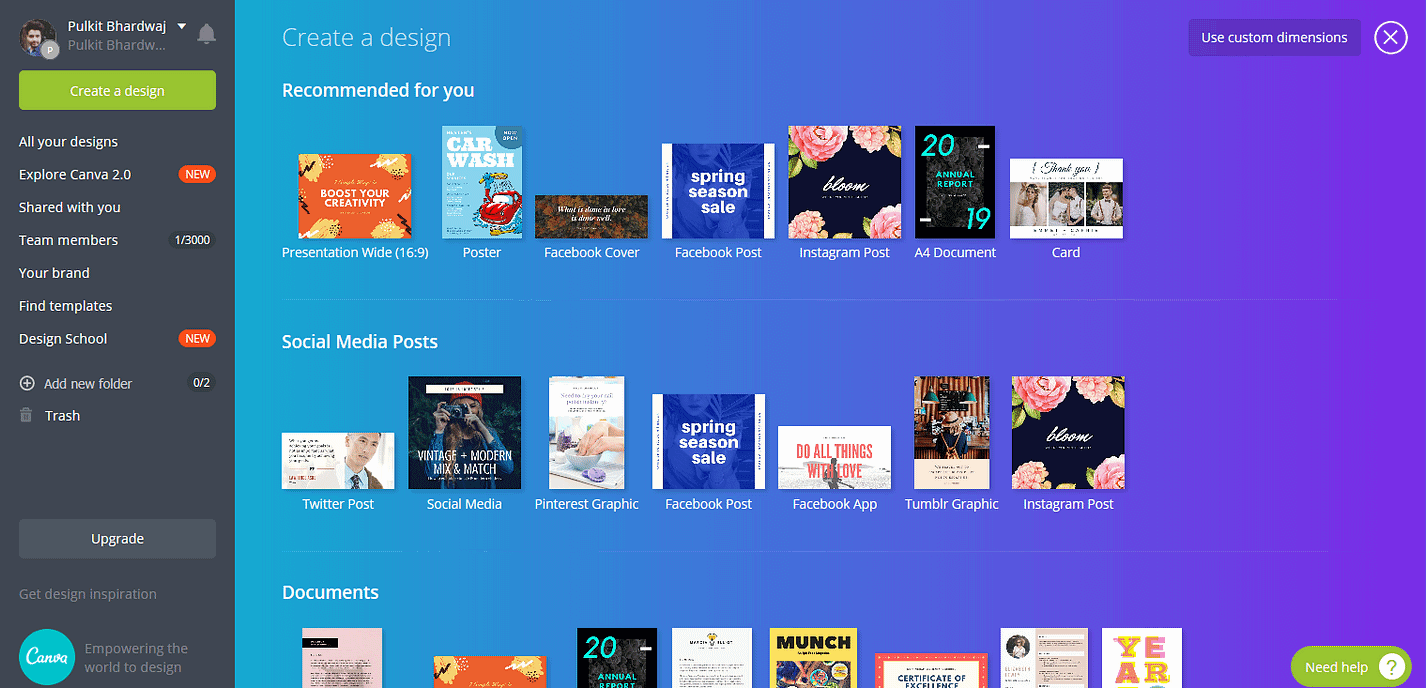 Canva is an invaluable social media management tool because it simplifies the creation of visually appealing content, with an easy-to-use design interface that doesn't require advanced graphic design skills.
The tool's scheduling feature allows you to plan and automate your posts, helping you maintain a consistent posting schedule without having to manually post each piece of content.
Note: If you're a beginner, you can check out these 41+ Canva Tips and Tricks to get the most out of this online design tool.
3. ContentStudio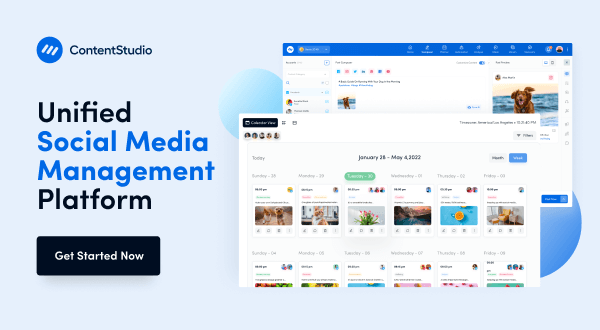 ContentStudio is a robust social media management tool that allows you to discover, curate, and share content across multiple platforms, reducing the effort of scouring the internet for relevant material.
Additionally, the platform supports team collaboration, so your entire social media team can work together on content planning, creation, and management, promoting a unified brand voice across different channels.
4. Co-Schedule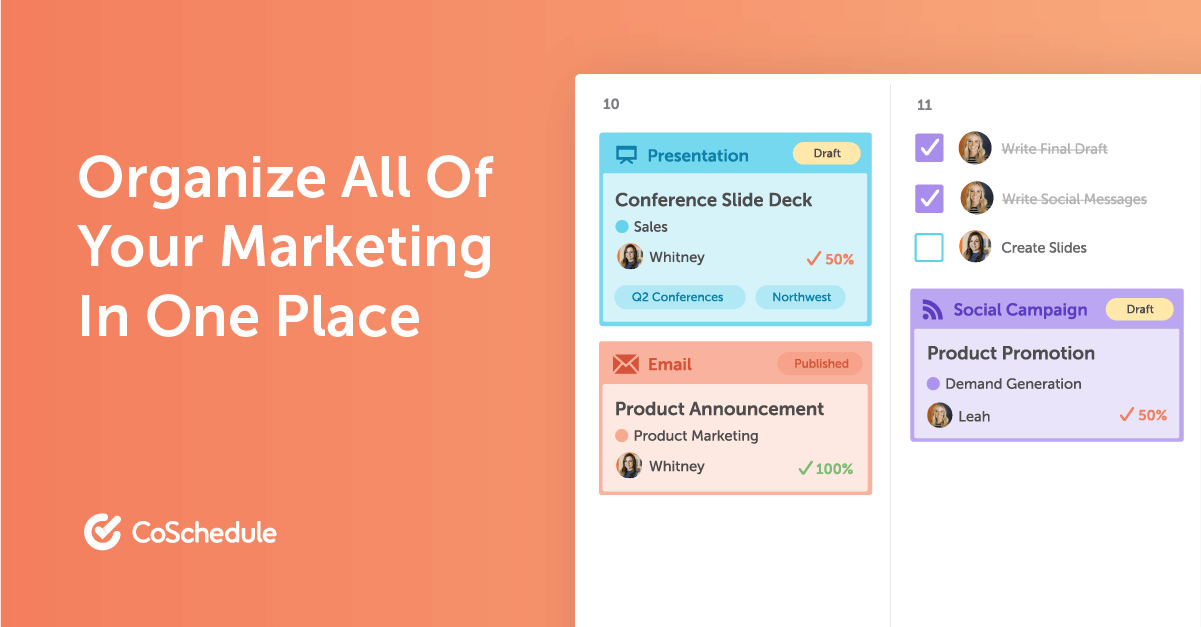 CoSchedule is a comprehensive social media management tool that centralizes your content planning and scheduling, making it easy to maintain a consistent and timely social media presence across multiple platforms.
Additionally, CoSchedule integrates well with other tools like email marketing software and blogging platforms, offering a holistic approach to your entire marketing strategy.
5. Hootsuite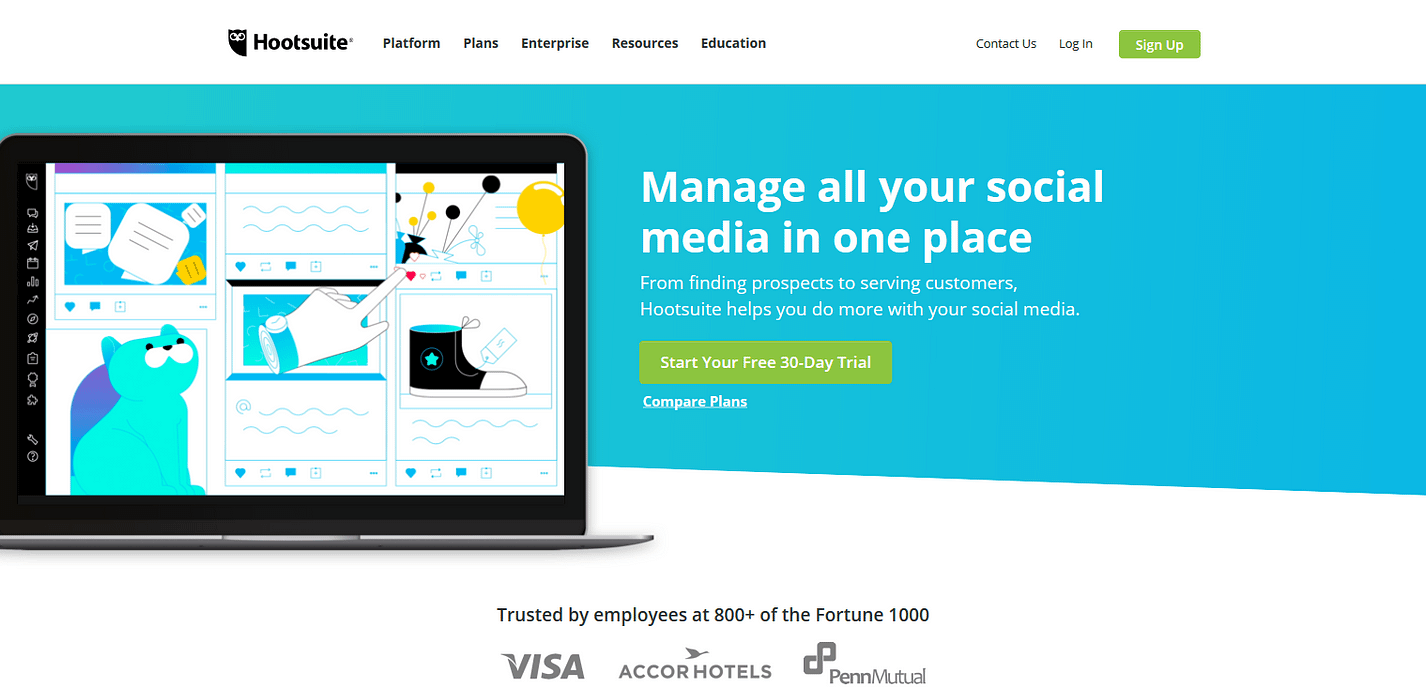 Hootsuite is a versatile social media management tool that allows you to manage multiple social media platforms from one dashboard, saving you the hassle of individually logging into each platform.
Its analytics tool provides you with valuable insights into how your content is performing across all platforms, helping you to better understand your audience and tailor your content accordingly.
Wrapping Up
While these are our top 5 social media management tools for small business owners, there are many more! What tools do you currently use to manage your social media?
Use Text Blaze to eliminate repetitive typing on your social platforms so you can spend less time writing posts and responding to comments and more time focusing on customers.
What are you waiting for? Give Text Blaze a try for free today!