The 5 Best OpenAI & ChatGPT Chrome Extensions
One of the most widely discussed subjects across all industries today is ChatGPT by OpenAI.
ChatGPT is a model created through machine learning by OpenAI that can auto-generate text when given prompts.
If you're a Chrome user, you might be looking for Chrome extensions that you can use with ChatGPT.
Many options are available, as OpenAI and ChatGPT integrations have become increasingly popular.
In this article, we'll cover why you should use OpenAI & GPT Chrome extensions and the 5 best extensions you can use today.
Why Use OpenAI/GPT Chrome Extensions?
Using an OpenAI or GPT Chrome extension can help you save time with lots of repetitive tasks such as:
Quickly respond to messages/emails
Summarize pieces of text
Translate languages
Ask questions about your data
GPT-3 versus GPT-4: Which is the best?
GPT-4 is the newest ChatGPT launch from OpenAI, following up GPT-3. These two models are very similar, yet there are distinct differences that make them different.
Upon releasing GPT-4, OpenAI shared that GPT-4 "passes a simulated bar exam with a score around the top 10% of test takers; in contrast, GPT-3.5's score was around the bottom 10%."
This shows that GPT-4 is much more powerful than GPT-3. That's supported by other sites as well.
According to an article published in Geek Culture on Medium, "GPT-4 is significantly larger and more powerful than GPT-3, with 170 trillion parameters compared to GPT-3's 175 billion parameters."
Another one of the biggest differences is GPT-4's ability to generate natural language. Not only that but GPT-4 can also be used for generating images & videos, which is one of the biggest differences between GPT-3 and GPT-4.
The Best OpenA & GPT Chrome Extensions
Here's our list of the best OpenAI & GPT Chrome extensions:
Text Blaze
Text Blaze's new OpenAI Integration is one of the best choices for an OpenAI/GPT Chrome extension.
Using Text Blaze snippets and our OpenAI integration, you can create dynamic prompt templates, interact with GPT and insert the responses anywhere with keyboard shortcuts.
Here's why you should choose our OpenAI integration:
You can use Text Blaze to not only generate text using ChatGPT, but you can use snippets to insert the results in real-time and from anywhere.
Our OpenAI integration helps you save time in any of your favorite apps, such as Gmail, Outlook, LinkedIn, Salesforce, and more.
The OpenAI integration makes it easy to translate languages, fix grammatical errors, rewrite and summarize text, write email follow-ups, send connection requests, and a LOT more.
Text Blaze is free forever.
PixieBrix
PixieBrix leverages the power of AI and automation to streamline your workflows and take your productivity to new heights. With PixieBrix, you get 25+ OpenAI/ChatGPT functions in one single Chrome extension. In one of their newest mods, you can highlight text on a webpage and get a summary in the PixieBrix sidebar, all powered by OpenAI. You can check out all of their OpenAI/ChatGPT mods HERE.
AIPRM for ChatGPT
AIPRM for ChatGPT is a Chrome extension that adds one-click prompts for ChatGPT.
This Chrome extension provides a useful list of prompts for SEO, software as a service (SaaS), and more.
Whether you are using it for marketing, support, sales, art, or programming, APRM for ChatGPT helps you quickly insert ChatGPT prompts to save time.
LINER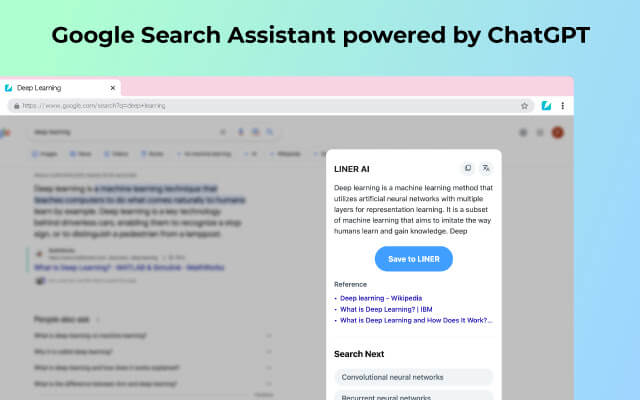 LINER is a ChatGPT Google assistant and highlighter that helps you quickly find high-quality Google search results.
When you perform a Google search, LINER provides you with direct answers to your question, provides references you can look at, and keywords you can use to perform another search.
Ultimately, the LINER Chrome extension makes searching on Google simpler and more efficient by utilizing ChatGPT.
Merlin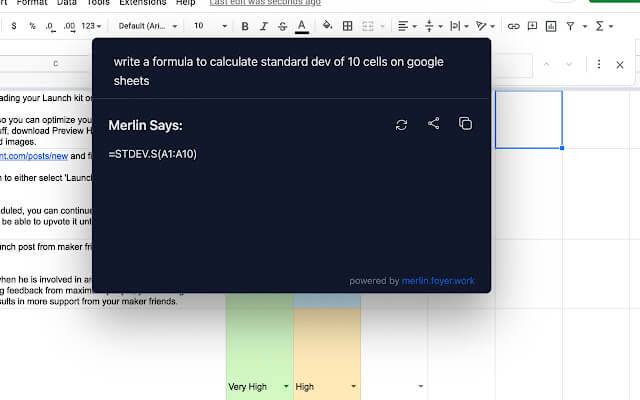 Merlin is a ChatGPT assistant that allows you to use ChatGPT on any website.
You simply select your desired content, use a keyboard shortcut to open the assistant, insert your prompt, and get more done using Merlin.
Merlin works well in Google searches, Gmail, LinkedIn, and all of your favorite sites.
ChatGPT for Google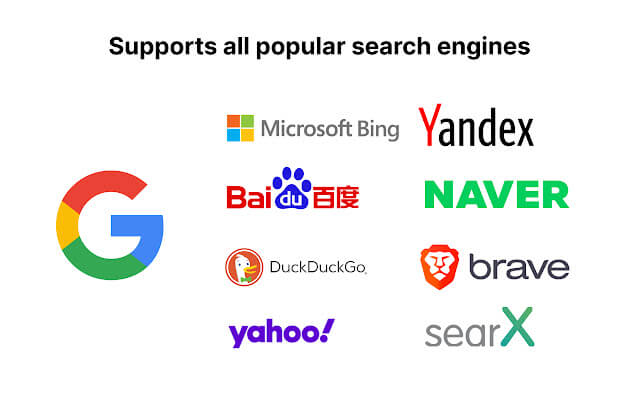 ChatGPT for Google is an open-source browser extension that displays ChatGPT alongside the results from your favorite search engine.
You can use ChatGPT for Google to quickly insert prompts next to search results from Google, Bing, Yahoo, and other search engines.
The best part? ChatGPT for Google is free. Custom triggers, dark mode, and markdown rendering make ChatGPT for Google a solid choice for OpenAI & GPT Chrome extensions.
Conclusion
Using OpenAI & GPT Chrome extensions can help you save time when summarizing text, searching on Google, and doing lots of other tasks.
If you're looking for a high-quality OpenAI & GPT Chrome extension, look no further than Text Blaze.
Text Blaze's OpenAI integration makes it simple to write ChatGPT prompts and insert them anywhere online.
What are you waiting for? Give it a try and save time today!