6 Best No-Code Apps You Need To Make Your Life Easier in 2022
Let's rewind back a few years, if you had a brilliant idea for a website, you couldn't just hop on to your laptop and start building it without any technical knowledge. No. No, you would have to get a taste of HTML first or hire a developer.
Today, you can just drag-and-drop — on your smartphone, maybe riding a subway no less — and have your website up and running by the time you reach your destination. Sure, it would still be basic given the short amount of time you've worked on it, but the point is that it can be done.
No code apps make this possible. They allow you to create and automate workflows without ever having to write a single line of code. These tools are perfect for individuals who want to get more stuff done quickly, but still want to maintain quality and have control over their work.
This article covers some of the best no-code apps in 2022 that will make your life easier.
What are no-code apps?
No code apps are apps that don't require coding knowledge to use. They have a very intuitive interface, which is easy to understand and use.
No code apps can be used by anyone – from the person who has never coded before, to the expert programmer.
They are especially helpful for those who are looking to save time, and want to automate workflows without needing any knowledge of programming languages or software development tools.
Here are the best no-code apps (in no particular order)
1. Coda
Coda is often described as the document platform on steroids. You get to do all sorts of wild stuff with spreadsheets and calculations — for instance, stuff that would usually have you scouring the web to get that one line of an Excel sheet formula.
Coda makes it easy to create folders and documents. You can group files, add tags, and share them with others. Coda also provides an intuitive interface that lets you get the most out of the program's features.
With Coda's ability to create and save multiple documents in one project, it becomes possible for your content to be updated with ease.
Coda makes mincemeat out of complicated formulas and automated tasks
Coda has a robust project management functionality — all backed by 'no code' ease of use. The software ensures that your project is seamlessly managed, with a few clicks of your mouse. You can assign tasks to team members and track the progress of each one, along with tasks in other projects. With Coda's 'no code' ease of use, for instance, you can have a website up and running faster than ever before.
2. Webflow
Webflow turns the process of creating stunning and responsive websites into a child's play. Its user-friendly interface allows you to drag and drop elements to create wireframes, designs, animations, and prototypes.
Webflow is used by both individuals as well as small businesses and large corporations around the world. Some of its popular uses are creating marketing sites for agencies, digital marketing campaigns, and landing pages for e-commerce websites and more.
With a host of pre-made templates and UI elements, Webflow is one of the easiest prototyping tools you'll find.
The visual editor of Webflow helps in creating content more quickly by providing templates, libraries, and other design elements.
You work with layers when building websites, which saves time as they can be edited later on.
Webflow supports live editing, real-time previews that will help you see your changes as they're happening. And the quick actions panel gives you simple shortcuts to cut out time spent on tedious tasks.
It comes with a built-in browser which allows you to try out the website designs before you publish them.
With Webflow, you can easily create custom CSS without having to write any code. Users can design their own stylesheets by dragging & dropping elements onto a canvas and adjusting them visually.
3. Text Blaze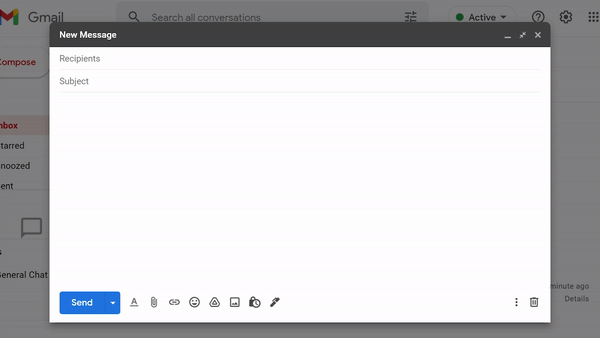 If you enjoy writing the same things over and over again, then you must love tap-tap-tapping on your keyboard, and that's okay. No, seriously. We are not judging you. But we still have to ask you:
Why?
And, why not use Text Blaze instead and wrap it up under 5 seconds instead of wasting 5 minutes writing something for the 513th time?
Text Blaze is a free text expander that helps you create snippets of text and assign shortcuts to them. It is available as a Chrome extension that sits quietly under the hood and waits for your command — keyboard shortcut of your choice. When it finds one — Boom! — Out pops an entire snippet of text!
Text Blaze allows you to create templates for repetitive text. Templates can be customized for different projects, topics, and writing styles.
You can bring them up with only a handful of keystrokes. Text Blaze loyalists swear by this tool. They have reported that having templates to follow has saved them hours of labor and prevented many mistakes from being made.
Text Blaze allows you to use placeholders in your templates. It comes with a variety of options including the text field, dropdown menus, and even complete forms.
You can create a dynamic template using date, formulas, and other business logic parameters.
Tired of typing the same things over and over again?
Join over 100,000 users who are using Text Blaze templates for free.
4. Airtable
Often been described as "the best way to organize your life", Airtable is a web-based spreadsheet application that allows users to create and organize information. We agree with the assessment. It's an online database that can be used for storing, sharing, and collaborating on spreadsheets.
Airtable has an intuitive interface with drag and drop functionality, which makes it easy for new users to start using the software.
Users can easily create database cards by dragging and dropping content on the card's template.
Users can add images, text, or links to the cards they create to make them more interactive.
Airtable makes it easy to create new tables. This feature is helpful for users who don't have any coding knowledge and want to get started quickly.
Provides a simple way to share information with other people in real time without having to send attachments or email attachments. This feature is helpful for team members who need quick access to shared documents.
5. Glideapp
Not another app-builder! Yeah,we get it. No code app builders are dime-a-dozen, but Glideapp is like nothing else out there. It's ridiculously easy to use, and using it is stupidly fun.
Glideapp is a platform that provides an easy way for content creators to share their work with their target audience. It can turn any spreadsheet into fully functioning app in crazy quick time. Glideapp is being used by photographers, freelancers, digital agencies as well as content creators to create engaging social media posts.
Glideapp is a simple and efficient app that learns from the content you create. It comes with a pre-made template for creating ebooks, reports, and web pages.
It supports a variety of categories and has some fantastic templates to get you started.
It offers a surprising number of features in its free plan. You get 500 rows of data and 1,000 sheet updates — without ever loosening your wallet strings.
You can use Glideapp for building a variety of simple app ranging from work and travel to leisure and personal goals.
Glide has a variety of features including easy deployment, cross-platform compatibility, and a robust API. This app development platform is changing the way people create and deploy apps to their users.
6. IFTTT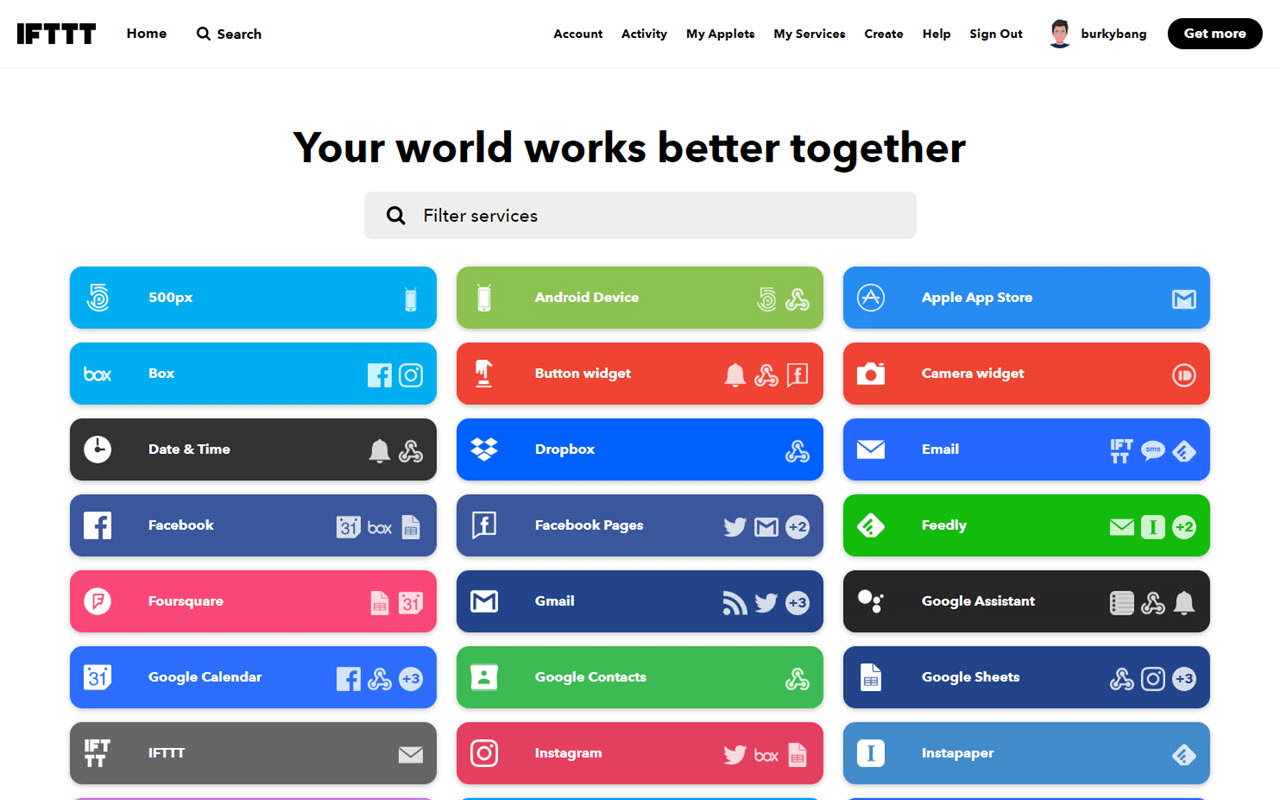 Imagine a freshly brewed cup of coffee appearing in your hands when you get off the bed every morning. No, IFTTT doesn't do that. But it works on the same principles — If This, Then (do) That (IFTTT, get it?).
IFTTT is one of the granddaddies of automation, along with Zapier and Automate. But Zapier has a steeper learning curve and Automate is shutting down this year — which is why IFTTT our go-to choice for automation.
IFTTT enables users to create custom applets in just minutes.
It can create applets that run automatically based on set conditions.
Has an extensive API that allows users to create their own personal recipes and share them with the community.
Provides an easy way to access data from connected devices like wearables or smart appliances.
IFTTT allows you to create a connection between apps and services that allow you to automate simple tasks. For example, you can use IFTTT to automatically post your Instagram picture on your Facebook page when it is tagged.
It can also help you automatically organize your notes by them between big wigs such as Evernote and Notion.
Conclusion
Getting started with no-code apps doesn't have to be scary or time consuming. There are plenty of tools to help you be productive, stay organized, and stay on top of things. If you aren't convinced, give Text Blaze a try to see how it can help you save time. We might be biased here, but we're confident that will get value out of Text Blaze without having a paid subscription. Get started for free today
Hi there! You made it all the way down to the bottom of this article. Take a few seconds to share it.
Want to turbo charge your work with templates and snippets? Text Blaze is the fastest way to do that.