10 Best Productivity Hacks to Master Your Productivity in 2023
Let's face it, the world is moving fast and it's hard to keep up. Every minute counts, and being productive is more important than ever.
The key to getting the most out of your time? Mastering your productivity. However, this is no easy task.
In fact, according to GoRemotely, most people are only productive for about 3 hours per day.
Boosting your productivity has clear benefits, but actually doing it is easier said than done.
This article will dive into why productivity matters, what productivity hacks really are, and offer 10 tips you can use to supercharge your productivity in 2023.
Why Is Productivity Important?
Productivity isn't just a buzzword; it's a game-changer. When you're productive, you're not just getting stuff done—you're getting the right stuff done.
Being productive is not just about getting stuff done though. It's also about saving time, managing your workload, and being efficient.
Think about it: when you're efficient, you have more time for other work, tasks, or activities. It's a win-win, and who doesn't love that?
Benefits of Boosted Productivity
Increasing your productivity at work doesn't just make your to-do list shorter; it comes with a range of career-boosting advantages. Here's what you stand to gain:
Accelerated Career Growth: Being more productive can make you stand out as a valuable team member, opening doors for promotions and career advancements.

Increased Job Security: High productivity can make you indispensable to your company, increasing your job security especially in uncertain times.

Greater Opportunities for Skill Development: Finishing routine tasks more quickly gives you the opportunity to take on new, challenging projects that can expand your skill set.

Enhanced Work-Life Balance: Being productive during your workday means you're less likely to bring work home, allowing for a healthier work-life balance.

Potential for Financial Rewards: Many companies link productivity to performance bonuses or pay raises, meaning your hard work could literally pay off.

Improved Team Dynamics: When you're productive, it often inspires those around you to up their game as well, leading to a more efficient and harmonious work environment.
Being productive at work can provide not just immediate rewards but long-term benefits for your career and personal life. So, if you're looking to make an impact, it pays to be productive.
What Exactly Is a "Productivity Hack"?
You might be wondering, what's a "productivity hack"? Well, it's like a shortcut for work. These are tips, tricks, or tools that help you do tasks faster and better.
The goal is simple: achieve more with less effort in less time.
A productivity "hack" is essentially a strategy you can use to boost your own productivity and save time. Each tip concerns a different aspect of your work and how to get it done more efficiently.
10 Best Productivity Hacks
Without further ado, here are the 10 best productivity hacks you can use to boost your productivity in 2023.
1. The Pomodoro Technique
The Pomodoro Technique is based on short bursts of focused work followed by short breaks.
How to use the Pomodoro Technique:
The benefit of using the Pomodoro Technique is twofold: it helps maintain your concentration at a high level and prevents burnout by providing regular rest intervals.
2. Two-Minute Rule
The Two-Minute Rule is straightforward but highly effective. If you have a task that can be done in two minutes or less, do it immediately.
The logic is that it often takes more energy to remember the task and get back to it later than to just complete it right away.
By following this rule, you'll clear small tasks quickly and keep them from accumulating into a daunting pile.
3. To-Do Lists
To-do lists are an oldie but a goodie. Writing down tasks frees your mind from trying to remember them and allows you to focus on the task at hand.
Moreover, crossing off completed tasks provides a psychological boost. It gives you a sense of accomplishment that fuels your motivation to tackle bigger tasks.
IDoneThis blog recommends using your to-do list as a planning tool, not as a direct task management tool. This is because it is easy to get overloaded with a long to-do list and not actually get anything done.
4. Time Blocking
In a world full of distractions, time blocking can be your saving grace. Allocate specific blocks of time for particular tasks or sets of tasks.
This way, you're not just setting aside time to work but specifying what work you'll do. It prevents multitasking, which can actually slow you down, and helps you zero in on important tasks during your peak productivity hours.
5. Prioritize Tasks
The Eisenhower Matrix is a popular tool for prioritizing tasks. It involves categorizing tasks into four quadrants based on their urgency and importance.
Tasks in the urgent/important quadrant should be tackled first, while those that are neither urgent nor important can often be deferred or even deleted.
Prioritizing tasks this way ensures that you focus your energy where it makes the most impact.
6. Eliminate Distractions
Your work environment plays a big role in how productive you can be. Use tools or apps to block distracting websites during work hours.
Some people also find that listening to white noise or instrumental music helps maintain their focus. Distractions aren't just digital; a clutter-free workspace can also boost productivity.
7. Delegate When Possible
You don't have to be a one-person army. Delegating tasks to team members or using services for things like grocery delivery can free up valuable time.
The trick is to delegate tasks that others can do so that you can focus on tasks that require your specialized skill set.
Knowing when to delegate a task can be difficult though. In this case, use the 70% rule: if someone else can do one of your tasks at least 70% as good as you could, delegate it to them.
8. Automate Repetitive Tasks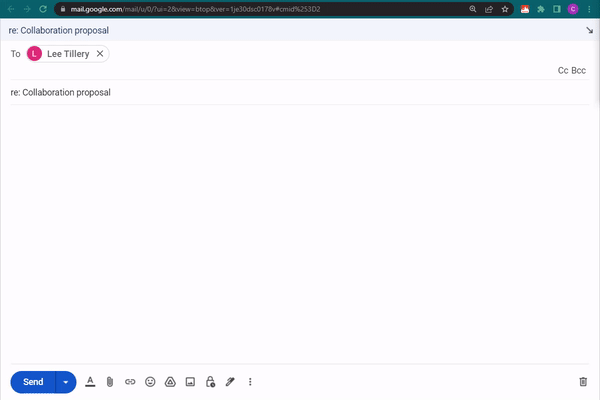 Automating repetitive tasks can have a huge boost to your productivity. If you're looking for a tool to help you automate tasks and boost productivity, give Text Blaze a try.
Text Blaze is a tool that helps you automate repetitive typing with text templates you insert using keyboard shortcuts that work anywhere you do.
For example, you can use Text Blaze to automate repetitive phrases (email signatures), messages (out of office messages), and even common work emails.
Here's why you should give Text Blaze a try:
It's free: you can use Text Blaze and get immediate value without having to break out your credit card.

It works anywhere: Text Blaze's keyboard shortcuts work on any site or app. It's like having a personal typing assistant anywhere you work!

Forms (placeholders), dynamic logic, and formulas help you create super-powered templates to automate your typing, streamline your workflows, and become a master of your productivity.
9. Practice Mindfulness
Being in the present moment can do wonders for your productivity. Mindfulness techniques, like deep breathing or short meditative breaks, can help reset your mind.
This enhanced focus can significantly improve your decision-making and problem-solving abilities, leading to more productive work periods and reduced burnout.
10. Take Regular Breaks
This may sound counterintuitive, but taking short, regular breaks can actually make you more productive. Your brain is like any other muscle—it gets tired with constant use.
Short breaks give your mind the rest it needs, allowing you to return to your tasks refreshed and with a renewed focus.
Become a Productivity Master Using Productivity Hacks!
Mastering your productivity is about working smarter, not harder. Remember, the aim is to get the right things done with less stress and effort. By adopting even a few of these productivity hacks, like the Pomodoro Technique or time-blocking, you'll be well on your way to a more efficient and balanced 2023.