Time-Tested Free Tools and Advice for Writers
What's in this article (and why it's not like the countless other listicles on the web)
If you search for "Best free tools for writers", you're guaranteed to find hundreds of thousands of articles packed with endless lists of free and paid tools, products, services, and tips for boosting your writing productivity.
But here's the problem. Most of these "become a better writer" articles are mass-produced. Their only goal is to rank for keywords.
Sure, they get you to click the link. But once you start reading, there's absolutely nothing of substance, because whoever is writing them doesn't really care about anything other than ranking on Google.
This article is different. Here's why.
First of all, I am actually a writer by profession. I've been doing this for 20+ years. During that time, I've managed to make every mistake you can imagine, and many more you'd never even think of.
I've lost clients due to negligence or plain stupidity
I've written crappy content due to lack of preparation and inadequate research
I've wasted days writing pieces that should've taken a couple of hours tops
I've lost money due to undercharging, and missed opportunities because of the opposite.
I've thrown away valuable time staring at a blank screen, paralyzed by writer's block, waiting for the elusive muse
In this article, I want to share with you all I've got. I'll hold nothing back.
So buckle up. I'm about to give you all the free tools, tips, and tricks in my arsenal, so you can get to where I'm at, in a fraction of the time it took me.
By the way, if you're wondering why I'm being so candid, the answer is simple. I don't fear competition. Experience has shown me that there's more than enough work for all of us to make a very good living.
So, with that out of the way, let's get started.
How to make a good living as a successful writer
The formula for being a successful professional writer is very simple.
Write > Publish > Get Paid > Repeat
Maybe you're already a competent writer. But that's not enough. You need to be able to produce good writing consistently and on demand.
In this section, I'll be going through my top tips, tricks and free tools for becoming the ultimate writing machine.
Conditioning
Your writing skills are like a muscle. The more you exercise them, the more efficient and responsive they become.
Get into the habit of sitting down and writing, regardless of how inspired you're feeling. If you have no idea what to write, just go with random stuff. But don't wait around for your muse. Just start writing.
Over time, you'll notice that getting into "writing mode" will become much easier. And as you get more assignments, you'll be able to drop this regime entirely, because you'll have more than enough work to keep you writing for hours every day.
Mindset
There's one fundamental difference between professional and amateur writers. Professionals understand that writing is a job, and it's no different from any other profession.
A surgeon doesn't wait for inspiration before picking up the scalpel. In fact, inspiration is probably the last thing on their mind, especially if they've already had a grueling shift prior to stepping into the O.R. (which is often the case).
The accountant doesn't wait for the right mood before wrestling a massive financial report into submission. Nor does the chef wait for a stroke of creativity before cooking a steak.
As a writer, you are no different from these professionals. You are a factory of words. And as unpleasant as this might sound, it's the truth. The sooner you come to terms with it, the sooner you'll be on the path to becoming a successful professional writer.
Being a professional writer is about producing good writing on demand and to spec, regardless of mood, inspiration or muse. It's not about creativity. Sure, creativity has its place, but it should never take precedence over delivery.
Method
One of the greatest downfalls of a writer is having the wrong method. Knowing how to approach a piece of writing in the most efficient way, will save you precious time and energy. Once you've honed your approach, you'll be able to produce better quality work in a shorter time, and take on more projects without burning out.
Here's my personal 5-step process for producing good quality writing consistently and with minimal effort.
Research the topic properly. Take notes and record the sources in case you need to give attribution. Don't obsess over how you organize your notes. It's a messy process by nature, and if you try to force some kind of order onto it, you'll end up wasting a ton of time and energy that are better spent on writing.
Don't edit while you write. Focus on completing the draft first. Get it off your chest as quickly as possible. The first draft is for your eyes only.
Once you're done writing your first draft, put it aside for a while. This will give your mind some time to reset, so you can look at the piece with a fresh pair of eyes.
Edit ruthlessly. Eliminate all fluff and tighten up your script. If a word isn't absolutely necessary, get rid of it.
After you're done editing,read it out aloud. This allows you to uncover any breaks in the flow. Your writing needs to feel conversational. If any part causes you to stutter or pause unnecessarily, rewrite it so that it feels more natural.
The right free tools for maximizing your writing efficiency
Conditioning, mindset and method are the starting point. But to be a consistently productive and successful writer, you need tools to assist you in the long haul.
Over the years, I've built up a collection of tools that help me make the most of my writing abilities. Some help me to work faster and stay focused. Others are great for generating and recording ideas. Here are my top go-to free writing tools for the job.
Most of them have free plans that will be more than adequate for your needs.
Workflowy for research, note-taking and outlining
Workflowy is great for jotting down notes in point form and creating the high-level outline for your article. The main view is in bulleted form, which makes it really easy to get a good overview of your notes.
Each bullet point can also have its own paragraph of notes. Additionally, you can drill down into individual bullets to minimize distraction.
I use Workflowy in various stages of my writing process.
During the research phase, I jot down my notes as bullets, together with links to any informational sources. If any ideas come to mind on how I can use this information, I'll also jot it down under that bullet.
Once I have all the information I need, I drag the various sections around to build my outline. Having a rough sequence helps me stay focused and on point while I'm writing.
Text Blaze for templates, automation and repetitive text
I discovered Text Blaze sometime in 2018. Within 30 minutes, I had already upgraded to a Pro account and have been an avid user ever since.
That's not to say you need to upgrade to Pro to get great value out of Text Blaze. There's a free plan that is perfectly adequate for casual use. In fact, most of the Text Blaze tips I'm sharing here can be done on the free version.
Let's start small.
Notice how many times I wrote "Text Blaze" in the last paragraph? I've got a shortcut for that. I just write /tb and the Text Blaze extension expands it into the full name. It might not seem like much, but if you're writing an article about a product, you're going to be typing the brand name multiple times. This little tip will save you an absurd amount of keystrokes. And believe me, it adds up.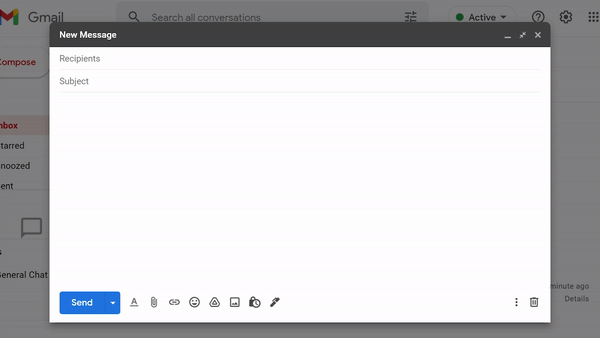 Text Blaze is also great for speeding up my outreach and networking efforts. I've got my outreach emails, quotations, invoices, proposals and other frequently-used documents saved as snippets in Text Blaze—all just a few keystrokes away. I've added text fields and some other fancy stuff to help me customize each message, but you don't even need to take it that far. Start simple and build up from there.
Google Docs for writing, getting feedback, and organizing content
I've been using Google Docs for over 10 years now, and it's the only writing platform I use. The words you're reading right now were written on my phone as I sat in my car sipping a cappuccino.
Google Docs has it all. It's easy to use, it has all the bells and whistles you'd find on all the best desktop writing platforms (spelling/grammar check, distraction-free mode, word counter, suggestions/feedback functionality etc), and most importantly, it's portable, so you can write from anywhere.
Real-time sync and collaborative tools make it really easy to get feedback from your clients. To me, Google Docs is the best writing platform bar none.
Thesaurus.com for overcoming brain freeze
Despite my fairly sizable vocabulary, sometimes I struggle to find the right word. When that happens, the website thesaurus.com is my go-to solution.
Besides providing an extensive list of synonyms and antonyms, it also gives detailed definitions for each word in context, together with practical examples.
If English is not your first language, thesaurus.com can be a lifesaver. Grammarly for developing good style and readability If you're still developing your writing discipline, Grammarly can be a good platform for you.
Besides catching spelling and grammatical mistakes, Grammarly analyses your writing and gives you suggestions on how to tighten it up and make it easier to read.
There's no doubt that Grammarly is a fantastic tool. That said, I would caution you against using it as a crutch. By all means, use it to learn how to write better, but don't stick to its advice religiously.
As you develop your writing style and learn "the rules of good writing", you'll discover that there are intelligent ways to break these so-called "rules" in a way that will enrich your writing. That kind of judgment, insight and discernment is something that develops with experience. And at this point in time, no AI tool can do that.
How to make money with your writing
If you want to be successful as a professional writer, it's not enough to just write and hope for the best. You need to be able to sell your services.
When I was just starting out, I was terrified of pitching to potential clients. And that's because I had a bunch of misconceptions about how I was supposed to do it. The truth is that there's no surefire path to success. But there are best practices that you can adopt to improve your odds.
Here's what has worked for me personally.
Make the most out of your network
The term "networking" has acquired a dirty reputation over the past few decades, because so many people go into it purely for personal gain. But when you network in a way where everybody wins, you'll find that people will start seeking you out, rather than avoid you.
Start with the people you know. Talk to them and take an interest in what they do. Then find common grounds where your writing expertise can help them. This will establish you as the go-to person for matters related to writing. Do this often to stay top of mind. Next time that person needs a writer—or knows someone who does—you'll be the one they think of.
Always be selling
"Selling" is another "dirty" word that everyone seems to be scared of using. But that's only because most people don't really understand what "selling" means.
Selling isn't just about money changing hands. Sure, you can sell a product or service. But you can also sell a belief, an opinion, an idea, an attitude, a fear, even an aspiration.
Always keep in mind what you're selling during every interaction with your network—be it casual or professional.
Are you selling the perception that you're a pleasant and dependable person to work with? Are you selling the idea that you're the best at what you do? Are you selling the promise of a solution to a problem?
It's all a sale of sorts. Of course, it needs to be backed by action, and you need to deliver on that promise.
A well-curated portfolio**
Maintain a portfolio of your best and most successful writing pieces. Don't obsess over building a massive portfolio—you don't need that. Just keep a handful of great pieces representing a variety of industries and scenarios.
When a prospective client asks you to see some work, don't dump the whole portfolio in their lap. Just pick one or two pieces that have some common ground with the client's business, and give them those.
One of the most common questions I get is, "What if I have no experience in that particular niche/industry/field?"
First, keep in mind that your primary expertise is writing. A client doesn't hire you for your superior knowledge of their industry (though that's often a desirable quality). In fact, it's unlikely that you'll ever take on a project where you know more about the industry than your client does.
If a prospective client is hesitant due to your lack of knowledge regarding their niche, explain to them that you're being hired for your writing expertise. And that includes your ability to research topics, learn about them quickly, and write about them clearly.
Make use of every element you have. A sale isn't an on/off switch. It's a multistage process composed of many small convincing arguments.
Testimonials
Let me be absolutely clear. "Please write me a testimonial" doesn't work.
First of all, even your most enthusiastic clients will probably have a hard time writing you a good testimonial, because they wouldn't know what to focus on. Additionally, most people find it very hard to write anything, especially if they feel obligated to do a really good job of it.
Don't put your clients in that situation. Instead, look back at your interactions with the client. What did they praise you on? What kind of results did you get for them? Why do they keep coming back to you?
Pick out the key points and write the testimonial yourself and present it to the client. Explain that you'd like to have their endorsement, and that—out of respect for their time—you've written a few lines based on what they've told you in the past. Do they agree with what's written? Does it sound like something they would say about you? If the answer is "yes", ask for their permission to use it on your marketing materials.
In my 20+ years as a copywriter, this approach has never failed me.
Another great thing about this strategy is that you can tailor your testimonials to cover all of your selling points. You don't need fifty testimonials gushing about what a nice person you are. You need one saying that you're efficient, another one saying that you get results, and a few others vouching for your reliability, good character and work ethic.
That's all you need. And if it's coming from well-known people, even better.
Now it's up to you
I've tried to condense 20+ years of knowledge into a measly few thousand words. There's no way I could ever do that justice. But I've given it my best shot for your sake.
Now it's up to you. All the knowledge in the world cannot hold a candle to even the smallest piece of action.
Tackle the content one piece at a time. Break it up into smaller chunks, maybe as an outline in Workflowy. Create keyboard shortcuts with Text Blaze to save time on your repetitive writing. Don't try to implement it all at once, because you'll be setting yourself up for failure.
I know the path to becoming a successful paid writer is hard, but I promise you that it gets easier over time. Don't give up. If someone with zero business sense like myself managed to do it, I guarantee you can too.
See you on the field, writer!