Invoice Creation 101: How to Create an Invoice With Ease
In the world of business, invoices play a crucial role in ensuring smooth transactions and maintaining financial records.
In fact, according to webexpenses, most businesses handle up to 500 invoices per month.
Whether you're a freelancer, a small business owner, or a service provider, understanding how to create an invoice is essential.
In this article, we'll break down the basics of invoices, explain their purpose, and provide a step-by-step guide on how to create your own professional invoice.
What Are Invoices?
An invoice is a document that outlines the details of a transaction between a seller and a buyer. It serves as a formal request for payment and provides a record of the products or services rendered.
Essentially, it acts as a billing statement that communicates the agreed-upon price, payment terms, and any additional charges to the customer.
Invoices can be issued for a variety of reasons, such as product sales, services rendered, or even for reimbursing expenses.
How Are Invoices Used?
Invoices are essential because they help you maintain a clear record of your sales and track your income. By keeping a systematic record of invoices, you can monitor your cash flow, identify outstanding payments, and ensure timely collection of dues.
Additionally, invoices are crucial for tax purposes, as they provide evidence of income and expenses for accounting and reporting requirements.
Moreover, invoices serve as a legal document that protects your rights as a seller and ensures both parties adhere to the agreed-upon terms. If any payment disputes arise, having a detailed invoice can help resolve the issue by providing a clear record of the transaction.
Invoices also contribute to your professional image by demonstrating your professionalism and attention to detail to your clients or customers.
What Goes Into an Invoice?
When creating an invoice, it's important to include key information to ensure clarity and transparency. Here are the essential elements that should be included:
Header Information: Include your business name, logo, and contact details for easy identification.

Invoice Number and Date: Assign a unique invoice number and include the date the invoice was created.

Customer Information: Provide the customer's name, address, and contact information.

Description of Products or Services: Clearly describe the items or services provided, including quantities, unit prices, and any discounts.

Total Amount Due: Calculate the total amount, including taxes and additional charges.

Payment Terms and Due Date: Specify the payment methods, terms, and the date payment is due.

Additional Information or Terms: Include any special conditions, return policies, or late payment penalties.
By including these elements, you create a clear and comprehensive invoice that promotes prompt payments and establishes trust with your customers.
Tips On Creating an Invoice
Choose the right invoice template: Start by selecting an invoice template that suits your needs. Read on to use our free invoice template.

Include the necessary details: Fill in the essential details of the transaction, including the customer's name and contact information, the invoice date, and the due date for payment. Be specific about the products or services provided, including item descriptions, quantities, unit prices, and any applicable taxes or discounts.

Calculate the total amount: Calculate the total amount due, considering any applicable taxes or additional charges. Clearly state the payment terms, such as the accepted payment methods and the due date. If you offer payment options like installment plans or discounts for early payment, mention them on the invoice.

Provide your payment details: Make it easy for your customers to pay you by including your preferred payment methods, such as bank account details or online payment platforms. If you accept credit cards or online payment services, mention the relevant information or provide a link for online payment.
How to Create an Invoice in Seconds
Creating an invoice doesn't have to be a headache. Use Text Blaze to help you create simple invoices with keyboard shortcts in a fraction of the time it takes to do it manually.
Text Blaze's keyboard shortcuts allow you to create templates that can be used anywhere online. Using Text Blaze, you can type a keyboard shortcut, quickly insert your relevant information, and generate an invoice in seconds.
Whether you are creating an invoice for the sale of a product or for a subscription, Text Blaze can help you do it in no time.
Forms (placeholders) allow you to insert customer or billing information in real-time while formulas do calculations for you: all with just a few keystrokes.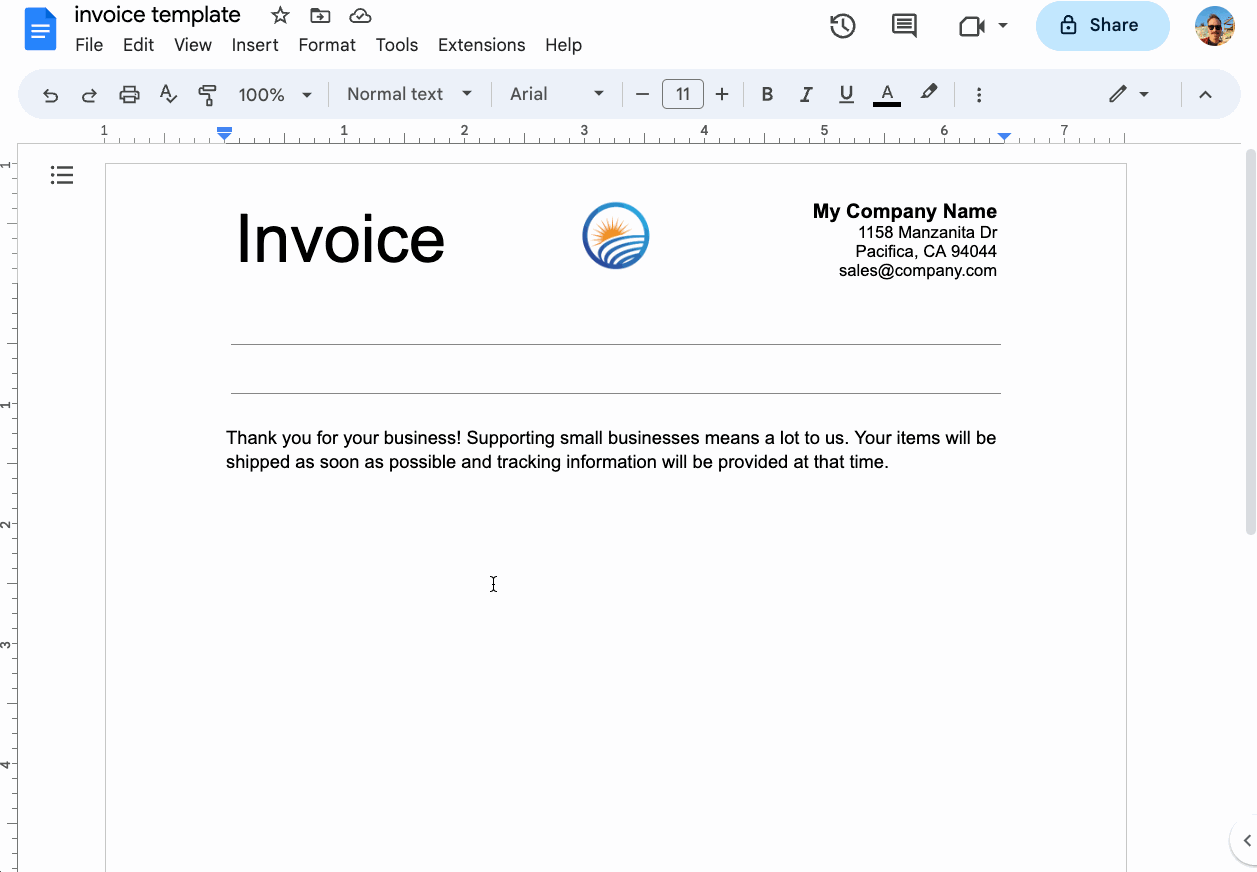 Want to save hours of repetitive typing for free?
Join thousands of teams who are using Text Blaze templates.
Free Invoice Template
Conclusion
Creating an invoice is an essential skill for any business owner or service provider. Invoices help you maintain financial records, facilitate smooth transactions, and establish professionalism.
By following a simple step-by-step process, including selecting a template, filling in the necessary details, calculating the total amount, and providing payment details, you can create clear and professional invoices that ensure timely payments and contribute to the success of your business.
Use Text Blaze to create invoices blazingly fast with keyboard shortcuts.
What are you waiting for? Give Text Blaze a try for free today!
Hi there! You made it all the way down to the bottom of this article. Take a few seconds to share it.
Want to turbo charge your work with templates and snippets? Text Blaze is the fastest way to do that.