The Ultimate Guide to Writing Better Emails
Emails are a part of our everyday lives, but not just any email will do when you're aiming to get a point across or make a good impression.
Writing effective emails is crucial, especially in today when so many emails are spam or just straight-up unnecessary. An effective email isn't just a message; it's a tool for communication that can inform, persuade, and even inspire.
According to TechJury, 49% of all emails were categorized as spam, making it more important than ever to write effective emails.
Whether you're reaching out to a potential client, communicating with your team, or applying for a job, an effective email can be the key to success. Let's explore how to make your emails truly impactful.
Why Is Writing Effective Emails Important?
First off, emails are often the first impression someone will have of you, especially in a professional setting. You wouldn't show up to a job interview in pajamas, would you? The same applies to your emails. A well-crafted email shows you're competent and professional.
Second, emails are a written record. Once you hit "send," it's out there, possibly forever. Sloppy emails can come back to haunt you, while well-written ones can serve as a solid record of communication.
Lastly, clear and concise emails save everyone time. Imagine getting an email that's confusing or has typos. You'd have to read it again or even ask for clarification. Good emails make life easier for everyone involved.
What Makes For An Email Effective?
You're probably wondering, what's the secret sauce for an effective email? It's not just about being professional; it's about getting your message across successfully. Here's a bullet list to help you out:
Set a Clear Objective: Before hitting that keyboard, know what you're aiming to achieve with your email. Is it to inform, request, or persuade? This sets the stage.

Use a Subject Line With a CTA: In your subject line, describe the point of the email and write what you want the person to do. Including a CTA in the subject line saves time for both sides.

Mention Important Stuff First: Start your email by quickly establishing why the reader should care. Hook them in right away.

Organize Your Content: Use paragraphs or bullet points to structure your main points, making the email easier to scan and digest.

Be Concise: Time is precious; don't waste the reader's. Keep your message short and to the point.

Check Spelling and Grammar: Mistakes can undermine your credibility. A quick proofread goes a long way.

Follow-Up If Needed: Sometimes one email isn't enough. If it's important, don't hesitate to send a polite follow-up.
By paying attention to these elements, you're not just sending an email; you're sending an effective communication tool tailored for success.
How to Improve Your Emails (10 Tips)
Ready to up your email game? Here are 10 tips to help you master your email and write effective emails:
Plan Ahead
Before you even open up that email app, pause and think about what you want to say. Planning ahead can help you structure your email more logically, making it easier for the recipient to follow your train of thought.
So, jot down your main points or even create an outline. You'll be amazed at how much smoother the writing process becomes.
Write a Clear Subject Line
The subject line is the first thing your recipient sees, and you want it to be compelling. It should be clear, specific, and relevant to the email's content.
This is your chance to grab their attention and get them to actually open the email. So, spend some time crafting a subject line that does your email justice.
Read on to see examples of effective subject lines.
Include a Proper Greeting
How you greet your recipient sets the tone for the rest of the email. It's important to include a small, polite greeting at the start of your email. After that, you should get to the point (more on that next).
Casual greetings like "Hey" might work for friends, but in a professional or formal setting, go for something like "Dear [Name]."
It's a small detail that can make a big difference in how your email is perceived.
Get to the Point
No one likes to read a novel when they open an email. Be concise and get to the point early on. If you have multiple points, consider using bullet points or subheadings to break up the text.
Make it as easy as possible for the reader to understand your message. This saves time and makes life easier for everyone involved.
In a world where people receive so many spam emails per day, it's important to focus on making your email stand out (in a good way).
Use Bullet Points
If your email contains several important points or pieces of information, bullet points can be a lifesaver. They make your email scannable and help the reader quickly identify the key takeaways.
This format is especially useful for emails that provide updates, list tasks, or outline procedures.
Use Polite Language
Being polite never goes out of style, especially in email correspondence. Phrases like "please" and "thank you" go a long way in making your email more courteous.
Plus, polite language can make it more likely that the recipient will respond favorably to your request or message.
Avoid Jargon
It's tempting to use industry jargon or complex language to sound more knowledgeable, but this can alienate readers who are not familiar with the terminology.
Stick to simple, straightforward words that anyone can understand.
If you have to use technical terms, consider adding a brief explanation.
Use Tools to Stay Consistent and Save Time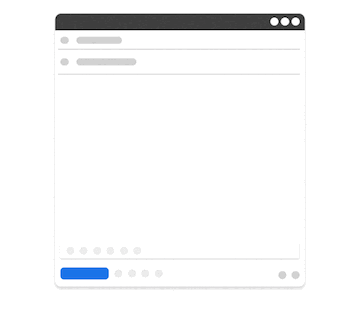 Being consistent is an important factor in maintaining professionalism in your emails. To consistently write effective emails, use Text Blaze.
Text Blaze is a tool that helps people automate repetitive typing with text templates that can be inserted anywhere online with keyboard shortcuts. Whether you want to automate basic phrases or even full emails, Text Blaze helps you ensure you're sending the right message every time!
Not only that, but with Text Blaze, you can customize your emails to boost open rates, avoid the spam folder, and write effective emails with ease.
Here's the best part: Text Blaze is free forever! (you can use Text Blaze forever without having to pay for a subscription)
Not only that, but you can use Text Blaze on absolutely any site or app to improve your emails (Gmail, Outlook, etc).
Check Attachments
If your email includes attachments, double-check that you've actually attached them. Almost everyone has sent an email without including an attachment. It's embarrassing and something you can easily avoid.
Forgetting to include an attachment can lead to unnecessary back-and-forth and wasted time.
Also, mention in the email body that you've included attachments so the recipient knows to look for them.
Sign-Off Properly
Finally, how you end your email is just as important as how you start it. Follow your sign off with your name and any other relevant contact information. A good sign-off leaves a lasting impression.
Here are some of the most commonly used email sign-offs:
Best regards: This one's popular for a reason. It's both formal and a bit friendly, making it a safe bet for various settings.

Sincerely: A classic that's formal and straightforward. You can't go wrong with this in a professional email.

Thanks/Thank You: It's simple and it conveys gratitude, which is always a good thing. Just make sure the rest of the email also has a friendly tone.

Kind regards: This is another balanced option that mixes formality with warmth.

Warm regards: Slightly less formal but still acceptable in many professional settings, this sign-off adds a touch of personal warmth.

Cheers: This one's a bit more casual and best used when you have a friendly relationship with the recipient.

Best: Short and to the point, this sign-off works well in both professional and casual emails.

Yours truly: A bit old-fashioned but still used, especially in more formal or traditional fields.

Respectfully: This is a formal option often used when you're addressing someone of higher rank or status.
Remember, the best sign-off for you will depend on the tone and purpose of your email, as well as your relationship with the recipient. Choose wisely!
10 Effective Subject Lines
You've got a killer email body, but what about that subject line? Remember, if your subject line doesn't catch the eye, your email might never get opened.
Let's look at 10 example subject lines that can help get your message across:
Urgent: Action Required by Friday: This one screams 'open me,' right? It's urgent and specific.

Meeting Recap and Next Steps: Clear and direct, this subject line lets the reader know exactly what to expect.

New Policy Changes Effective Next Month: No one wants to miss out on important updates, making this a must-open.

Invitation: Team Lunch on Wednesday: For invitation emails, including the word invitation helps your recipient immediately understand the point of your email.

Your Feedback Requested on Project X: This one gives the recipient a role, making them more likely to engage.

Successful Q1 Numbers Inside!: Celebrating a win? Share it. This subject line is optimistic and informative.

Last Chance: Register for Our Webinar: Adding a sense of urgency can prompt immediate action.

Thank You for Your Purchase: Next Steps Inside: Post-purchase communication is key, and this subject line makes it clear there's important information to read.

How to Improve Your SEO: Tips Inside: Offering help or guidance is always a solid choice for getting clicks.

Breaking: Company Acquires New Business: Using the word 'Breaking' adds a level of importance and urgency.
Choose a subject line that aligns with the purpose and tone of your email, and you'll increase the chances of not just getting it opened, but read and acted upon.
Writing Effective Emails ≠ Rocket Science
Writing better emails isn't rocket science, but it does make a big difference in how you're perceived and how effectively you communicate.
Remember, professional emails are clear, courteous, and to the point. Use these tips to make sure your emails hit the mark every time.
Use Text Blaze to save time and to write emails quickly and effectively today!