This privacy policy governs your use of the software application Text Blaze ("Application").
What information does the Application obtain and how is it used?
The Application obtains the information you provide when you access, use and register with the Application.
When you register with us and use the Application, you generally provide (a) your name, email address, user name, password and other registration information; (b) transaction-related information, such as when you make purchases, respond to any offers, or download or use applications from us; (c) information you provide us when you contact us for help; (d) credit card information for purchase and use of the Application, and; (e) information you enter into our system when using the Application, such as snippets.
We may also use the information you provided us to improve our services and to contact you from time to time to provide you with important information, required notices and marketing promotions.
Automatically Collected Information
In addition, the Application may collect certain information automatically, including, but not limited to, Text Blaze feature usage and engagement (for example, the number of snippets created or the number of times a snippet is used).
Smart Snippet Suggestions
To help you speed up your work, Text Blaze includes intelligent suggestions. We currently implement one type of suggestion -- recommendations to create new snippets -- and additional types are planned for the future.
Text Blaze has a strong commitment to personal privacy and smart suggestions are implemented in a privacy conscience manner. To help you evaluate whether these smart suggestions are right for you, the following outlines the methodologies used in the suggestions. If you choose to, you may opt-out of the suggestions at any time by disabling the Smart Suggestions options in the the Text Blaze configuration page.
Implementation Overview: New Snippet Suggestions
To create new snippet suggestions, first we generate a hash of the text you have typed. A hash is like an encryption of the original text but with the twist that the hash cannot be decrypted back to the original text. It's like you had a key to encrypt something but it only worked one way.
Additionally, multiple pieces of input text can create the same output hash (which is not the case in regular encryption). Because of this, if you only have a hash, you can't definitively recreate the original text that was used to generate the hash (this includes Text Blaze, your neighbor, the NSA, and everyone else).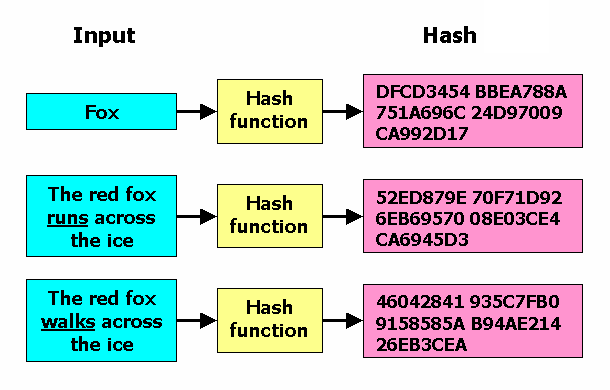 Illustration of hashing (from Wikipedia)
Text Blaze uses hashes of your inputted text to identify common phrases you use without needing keep a record of the actual text you entered. So, for instance, if Text Blaze sees you used a specific hashed value several times; the next time you use something that maps to this hash value, Text Blaze can create a new snippet suggestions for you. Text Blaze is able to do that without knowing what the hash represents until it's ready to make a suggestions.
Hashes are great! They allow Text Blaze to recommend new snippets without needing to store what you've written before we make a suggestion. We keep hashes locally in your computer's memory (so they will be cleared if your restart Chrome) and limit the length of time we hold them for to seven days. When you accept or reject a new snippet suggestion, we store its hashes as part of your Text Blaze user account so we can make sure not suggest the same thing to you again.
Do third parties see and/or have access to information obtained by the Application?
Data may be periodically transmitted to external services to help us improve the Application and our service. We will share your information with third parties only in the ways that are described in this privacy statement.
We may disclose User Provided and Automatically Collected Information:
as required by law, such as to comply with a subpoena, or similar legal process;
when we believe in good faith that disclosure is necessary to protect our rights, protect your safety or the safety of others, investigate fraud, or respond to a government request;
with our trusted services providers and partners who work on our behalf or help to improve Text Blaze.
Data Retention Policy, Managing Your Information
We will retain User Provided data for as long as you use the Application or maintain your account with us and for a reasonable time thereafter.
Children
We do not use the Application to knowingly solicit data from or market to children under the age of 13. If a parent or guardian becomes aware that his or her child has provided us with information without their consent, he or she should contact us. We will delete such information from our files within a reasonable time.
Changes
This Privacy Policy may be updated from time to time for any reason. You are advised to consult this Privacy Policy regularly for any changes, as continued use is deemed approval of all changes.
Your Consent
By using the Application, you are consenting to our processing of your information as set forth in this Privacy Policy now and as amended by us. "Processing," means using cookies on a computer/hand held device or using or touching information in any way, including, but not limited to, collecting, storing, deleting, using, combining and disclosing information, all of which activities will take place in the United States. If you reside outside the United States your information will be transferred, processed and stored there under United States privacy standards.